Wow! A swimmer died at the Jekyll Island Triathlon yesterday!
My husband was on the boat that was to help any swimmers on the swimming race. The waves were rough and it was windy. Many of the swimmers were struggling. He didn't drown, he had a heart attack. From
Jacksonville.com/
There was no water in the lungs. Two other swimmers had to be helped out of the water from exhaustion, but were not injured. My husband thought it would be easy to help with his boat in the swimming part of the triathlon, but it was tough!
This is how the Jekyll Island ocean usually appears: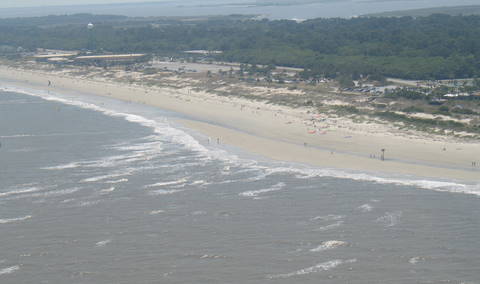 Don said that I could have gone boogey boarding. Usually there are no waves to speak of on the beaches of the Golden Isles. Mostly the waves are only good in the fall and only when the tide is high at around 8 pm. I am already planning to go to St. Simons two times in August and in September. Also, it there are hurricanes off the coast...
The waves never get like this in the Golden Isles!!